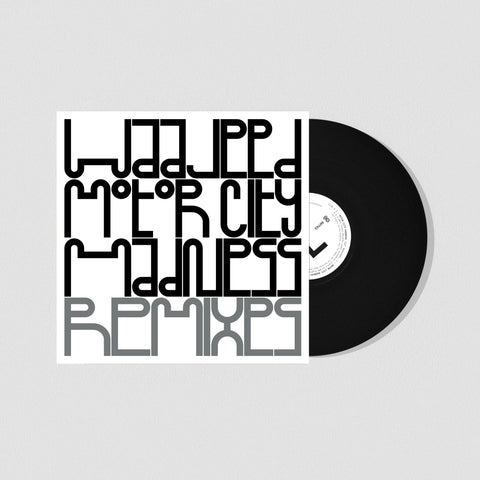 Waajeed
motor city madness (remixes)
---
---
Tracklist:
Motor City Madness (12 Version)
Motor City Madness (People Mover Remix)
Motor City Madness (Underground Resistance Remix)
Motor City Madness (SHE Spells Doom Remix)
Impressive package from Waajeed on Tresor featuring Mad Mike / Underground Resistance remix.

Heralding the release of Memoirs of Hi-Tech Jazz, the forthcoming album by Detroit-born-and-based artist, Waajeed, this 12" features further examinations of the track's motifs by the vaunted Detroit collective, Underground Resistance, Zambian producer SHE Spells Doom, and a special reimagining by himself featuring live drums.
----------

On the People Mover Remix, Waajeed enlists the talents of Zo!, Tall Black Guy, Michele Manzo, and more to explore one extreme of the track's musical heritage. Syncopated drums, driven by a full and bright snare drum, firmly place this version in the sphere of contemporary Jazz emanating from Detroit and cities across the US.
Coming from an album inspired by revolutionary efforts against oppression in Detroit and in Black locales around the world it is entirely fitting that Underground Resistance should provide their take on Motor City Madness. UR's Mike Banks follows the lead of the original's melange of genres. By thickening the bassline, peppering the mix with extra brass from the Mad Brass Horn Section, and adding strings courtesy of Six Mile Strings, UR further explore the dynamic intersection of music, history, and geography.
SHE Spells Doom trims Motor City Madness down to the bones of the brass section and infuses them with a gqom beat, simultaneously referring to Jazz and Techno's deepest roots in Africa, as well as suggesting where they might be headed in the future.
---