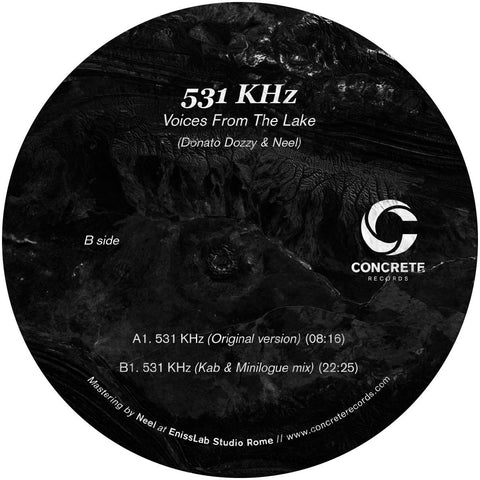 Voices From The Lake a.k.a. Donato Dozzy & Neel
531 khz
---
---
Tracklist:
531 KHzB1 Voices From The Lake 
531 KHz (Kab & Minilogue remix)
2022 repress of this amazing record - both sides...
Almost 23 minutes of voyage inside the techno abyss! the signature of Donato Dozzy and Neel, as Voices from the Lake.
"531KHz" is without a doubt, a techno track conceived for the dancefloor, but with the dark settings and mental shades that characterize and make unique the work of Donato and Neel. Very few variations, a wall of bass, and an energy that engages mind and spirit.
On the B-side, Kab and Minilogue give us a remix that is a true masterpiece, not many artists are able to deliver their own personal vision without changing the nature of the original project.
---