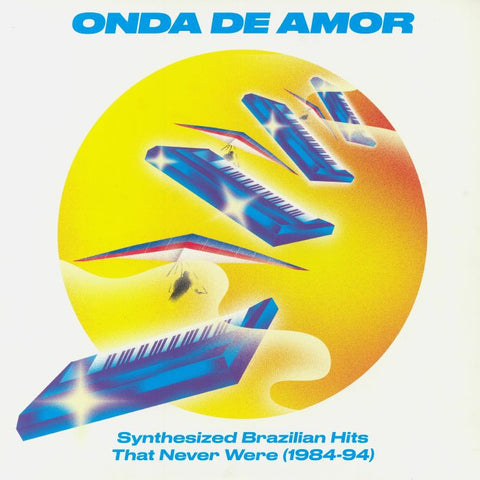 Various
onda de amor: synthesized brazilian hits that never were 1984-94
---
---
Tracklist:
Ricardo Bomba - Voce Vai Se Lembrar
Vania Bastos - Tabu (The Sweetest Taboo)
Rosana Mendes & Grupo Veneno - Reague
Grupo Controle Digital - A Festa E Nossa
Villa Box - Break De Rua (Versao Longa)
Batista Junior - Cheira (7" version) 
Dado Brazzawilly - Saramandaia
Dodo Da Bahia & As Virgens De Porto Seguro - Africamerica
Electric Boogies - Electric Boogies
Os Abelhudos - Contos De Escola (Millos Kaiser edit) 
Nanda Rossi - Livre Pra Voar (Millos Kaiser edit) 
Regiao Abissal - Feminina Mulher (instrumental)
Repressed! Brazilian goodies...
Some crate-digging compilations are often the result of someone handpicking their choice favourites from another country's musical history, perhaps unaware or uninvolved with its cultural lineage in the process.
On this - a treasure trove of synth jams, pop, samba boogie, Balearic and electro from 1980 & '90s Brazil - the tracks are picked by Millos Kaiser, one half of the Brazilian duo Selvagem, who are at the helm of throwing some of the country's best dance parties. It's a rare compilation that offers Brazilian music actually picked by a Brazilian.
Whilst names such as Ricardo Bomba, Villa Box, Fogo Baiano, Electric Boogies and Batista Junior may not be household names, they tell an untold, yet rich and important part of musical history in Brazil. If the 80s has a bad reputation amongst traditionalists in Brazil then the 1990s are even more derived and deplored. This going against the grain and plucking gold from such forgotten periods is what makes this such a charming, unique, character-loaded and fascinating collection of music. It's a release that is loaded with smooth grooves, bubbling bass, glistening synthesisers, funk strutting guitar lines and a sheen of production that undeniably marks it of its time.
For Kaiser this compilation is about reintroducing music during a period of reappraisal, catching a new wave and hoping contemporary listeners will ride it with him. "The idea is to do justice to these songs. Songs that combine all the right ingredients that should have put them on radio playlists when I was growing up or at least in the cases of more adventurous DJs".
---