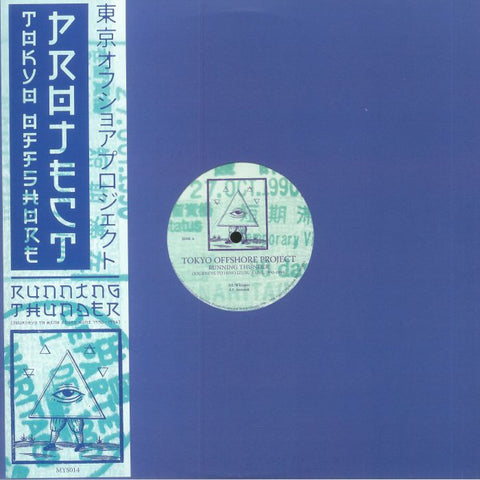 Toyko Offshore Project
running thunder (journeys to hino izuru kuni 1990-1994)
---
---
Tracklist:
Mysticisms' present a 2 x 12" DJ Double pack of the music of Toyko Offshore Project. Featuring the productions of Simon Lovejoy, Frankie Valentine and Kiyoshi Myaura. T.O.P released a series of EPs from 1990 to 1994, recorded in London and Toyko.
This selection of released and unreleased tracks covers the nascent UK / Japanese house sound through to Afro, Ambient, Balearic and Street Soul, a compilation that brings this evolution of electronic music back on to vinyl for a new generation...
"Winter 1990. London, airport. Whisper.
Frankie arrives from the club. Simon waiting, making grooves on Roland 202. London-Alaska-Tokyo. Aerotek.
Passport stamped, motorway gliding to Future City. Hotel, Kiyoshi awaits. 32 floors, room service, refresh. Solitaire (TokyoLove).
Trip to Nara. White gloves, Taxi! Video, minimalist, walking. Noddle man. Borrowed smoke. Bullet train. Zen temple prayer. Running Thunder.
3am City recording. Street sounds, phone booth, vending machines. Record stores, flyers. Magalenha.
Studio, booth, synths, tuning. Vocals, staring, waiting. Magic Melody.
Breakfast, Atari, stroking Cornelius.
Past harbour lights, buying DAT Walkman. Hostess, singing, filling glasses, Geisha girls. Airport, goodbyes. Thailand incoming, recharge. Children Of The Rainbow.
Travel the Mystery."
---