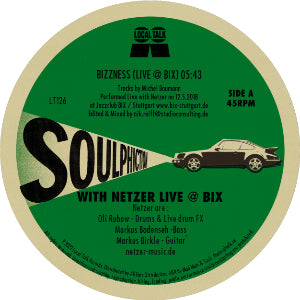 Soulphiction with Netzer
live @ bix
---
---
Tracklist:
Dileila Emergency Dub Live @ BIX
Live recording with Soulphiction & Netzer from 2018, recorded live just a month before the official release of 'Bizzness' the first of several releases Soulphiction and Local Talk released together.
Bizzness is by many considered a classic and had all the trademarks of a Soulphiction tune with its dusty soul and funk-infused house ingredients.
This live version really shows the vision and forward thinking of Michel Baumann (RIP).
Also included on this release is a - as far as we know it - unreleased track called Dileila Emergency Dub.
A track built around a heady deep house theme that captures the sweaty, back-in-the-day feel.
---