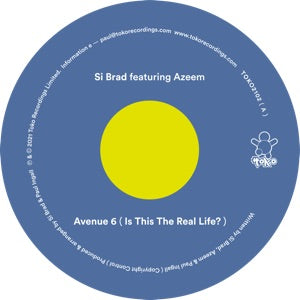 Si Brad Feat Azeem
avenue 6 (is this the real life?)
---
---
Tracklist:
Avenue 6 (Is This The Real Life?)
Avenue 6 (Is This The Real Life?) (Real Crooked mix)
Avenue 6 (Is This The Real Life?) (Crooked Girl Crooked Boy mix) 
Si Brad, man the controls on the sublime and soulful new Toko cut incorporating the crisp rhythms, heavyweight subs & swelling pads which are such a Toko trademark, Brad brings the bliss to this sensual house heater, enlisting Azeem's emotive vocal tones for an extra helping of soul.
The label enlists hometown hero Crooked Man for the B side business here, and the Techno hero obliges with a pair of ferocious speaker tweaking reshapes.
Dark and cavernous, the 'Real Crooked' mix combines wall-shaking bass, jacking drums and bloodless riffs into smoke and strobe stomper, repurposing Azeem's vocal as a haunting refrain.
The dance floor paranoia continues on the 'Crooked Girl, Crooked Boy' mix, a sparse and dissociative take on the original equipped with demented dub FX and some serious bass weight.
---