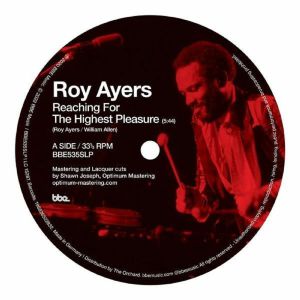 Roy Ayers
reaching for the highest pleasure
---
---
Tracklist:
Reaching The Highest Pleasure
I Am Your Mind (Pepe Bradock main mix - part 2)
BBE drop this special Roy Ayers 10"
There are moments when we harmonise with each other and become one with nature and reality.' When, in the early 2000's, Pete Adarkwah heard of the existence of tapes of unreleased Roy Ayers and Ubiquity recordings sitting in storage he contacted Roy to get hold of them to be mastered and released. Released they were under the banner of 'Virgin Ubiquity' which spawned two volumes of the original grooves as well as a compilation of remixed versions of selected tracks. Now coming out on a 10" single, 'Reaching For The Highest Pleasure' gets it's first single release. This vibraphone heavy track and funk-fuelled bassline epitomises Roy's Black Consciousness inspired output from the mid-70's that also saw seminal albums such as Red Black and Green, Mystic Voyage and Everybody Loves The Sunshine . This release is backed with the call to arms of personal freedom and self that is 'I Am Your Mind part 2' remixed by Parisian producer Pépé Bradock .First released on 'Virgin Ubiquity remixed', this track features a stunning female vocal as well as Roy's spoken word philosophies laid over a deep and infectious groove. These two tracks are Roy Ayers at his legendary best from his most innovative period of creativity with his Ubiquity band of top flight Jazz, Funk and Soul musicians and artists.
---