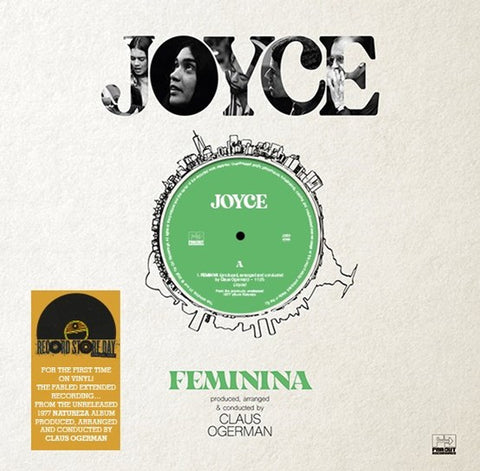 Joyce
feminina - rsd2022
---
---
Tracklist:
Feminina
Joyce Interviewed By Joe Davis (4th November 2021)
This fabled 11 minute+ version of Brazilian icon Joyce's groundbreaking "Feminina" was recorded at Columbia Studios, New York in 1977, for the as yet unreleased Natureza album. Produced, arranged and conducted by the great Claus Ogerman (Frank Sinatra, Antonio Carlos Jobim, Billie Holiday... the list goes on), Natureza would have ostensibly been Joyce's big break to international stardom, but mysteriously, it was never released. With Joyce came fellow Brazilian icon Mauricio Maestro, while Nana Vasconcelos and Tutty Moreno were already living in New York, and Ogerman employed North American jazz legends Joe Farrell, Michael Brecker, Buster Williams, Mike Manieri and a full orchestra for the sessions.
In anticipation of the monumental forthcoming Natureza album release via Far Out Recordings, this astonishing version of a true classic gets its first proper 12" vinyl release for Record Store Day 2022. In the spirit of making the release special for Record Store Day, rather than leave it as a single-sided 12", Far Out boss called up Joyce to talk about the recording, recorded the conversation, and got it pressed onto the B-side.
---