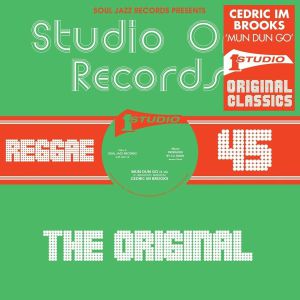 Cedric Im Brooks
mun dun go
---
---
Tracklist:
Cedric Im Brooks - Mun Dun Go
Sound Dimension - Heavy Rock
Massive double header of two killer instrumental anthems from Brentford Road in the latest in a series of special edition 12"s of all-time classic Studio One party bombs.
Cedric Brooks' 'Mun Dun Go' was first released on Studio One / Bamboo in the UK in 1970, and is an incredibly hypnotic tune, with original copies extremely rare. On the flip, The Sound Dimension's 'Heavy Rock' is one of the foundation instrumental tunes of reggae music, endlessly versioned by dancehall artists - a true anthem. 100% essential monster Studio One tunes for the dancefloor.
---