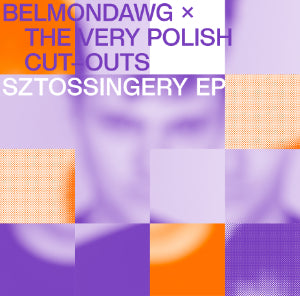 Belmondawg X The Very Polish Cut-outs
sztossingery ep
---
---
Tracklist:
Pappardelle Alla Arrabbiata (Viva Italia Schmoltz Wersja)
Poppyn Universe (Polotronic Remix)
Warszawa Plonie (Belmondawg Tribute)
Polish house and cut out vibes, very limited outside of Poland
"Sztossingery EP" (which means Bangers in English) is the fruit of a creative agreement between Belmondawg (one of the most brilliant polish hip hop artist of the young generation) and The Very Polish Cut Outs.
The result is 6 remixes from his mini-LP that came out in 2020, created by some of the best Polish producers ..The EP starts with a massive remix from Schmoltz of 'Pappardelle Al'arrabbiata' - the Belarusian producer transforms the original into a 90's house anthem…
Next is the slo-mo heavy hitting remix for the cult track 'Te Tereny'. Side-A closes with Speek's hypnotic and deep take on 'Wte i Wewte'.
On the flip we get another house stomper from Polotronic (1/2 of the duo Holiday80), a crazy re-interpretation by Tamten who transforms one of the skits on the album 'Agnihotra' into crazy and psychedelic 135 bpm dance floor affair and last but not least the record ends with the mighty Pejzaz transforming 'Te Tereny' into a breezy jungle like its the 90's again.
---