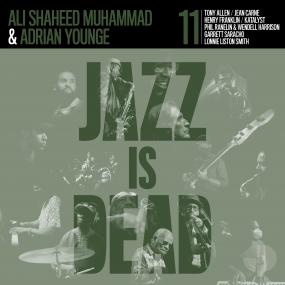 Adrian Younge / Ali Shaheed Muhammad
jazz is dead 011
---
---
Tracklist:
Love Brings Happiness (feat Lonnie Liston Smith & Loren Oden)
The Griot (feat Henry Franklin)
Come As You Are (feat Jean Carne)
Sabor Del Ritmo (feat Garrett Saracho)
No Beginning, No End (feat Tony Allen)
Ursa Major (feat Phil Ranelin & Wendell Harrison)
Phoenix (feat The Midnight Hour)
Heavyweight 2LP featuring many greats , brought together by Younge and Muhammad . World-renowned legends, crate digger patron saints, and an exciting vanguard of young talent, delivered another unimpeachable collection of fresh and captivating recordings inspired by jazz's past, present, and future. There are names that some may already be familiar with, such as Lonnie Liston Smith, Jean Carne, and Tony Allen, and those less so, like Henry Franklin, Phil Ranelin, Wendell Harrison, Garrett Saracho, Katalyst. What unites each new collaborator is their unbent dedication to remaining original, preserving their creativity, and sharing it with the world.
---