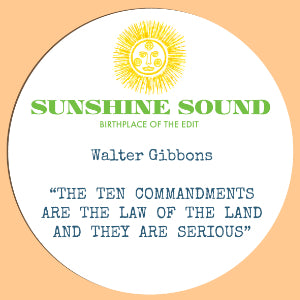 Walter Gibbons
the ten commandments are the law of the land
---
---
Tracklist:
The Ten Commandments Are The Law Of The Land
Hand Claps
Sunshine Sounds bless us again with a wonderful moment from disco / edit history - Walter Gibbons' legendary loose  - people often questioned it existence , somehow the new reincarnation of Sunshine Sounds has dug it out.
Not exactly easily playable but an artefact all the same , flipped with the amazing simple "Hand Claps"  which will destroy any peak warm up!  (thats all it does, its great)
---
Forget your search for a holy grail, THIS is The Lost Ark Of The Covenant.
Walter Gibbons presents 'The Ten Commandments Are The Law Of The Land' It will melt your face and make you clap yo' hands!
Mythical disco foundations from Sunshine Sound.
Label Info:
Take a journey to the dawn of DJ culture with Sunshine Sound, the NY imprint that through a series of genre defining Disco Edits became recognised as the 'Birthplace of the Edit'.
These 'Disco Adjustments' would become the hottest tracks in a DJ's crate, spawning countless bootlegs & imitations since they first appeared so many years ago.
As influential as these recordings were, most only appeared as acetate discs individually cut in mono & sold direct to DJs.
Some of these were cut in such small quantities it could be debated as to whether they ever really existed at all.
40 years later and all that remains are remakes & rumours......or so it was thought.
---