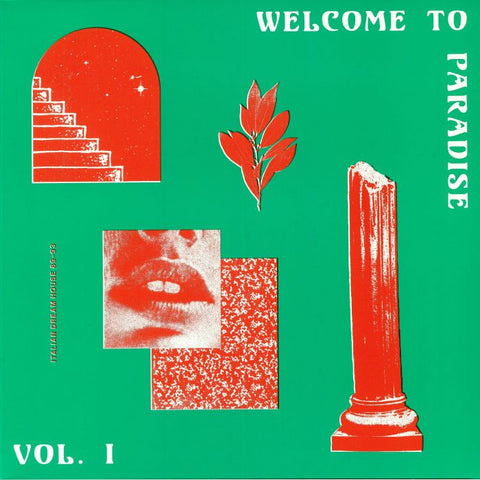 Various
welcome to paradise: italian dream house 89-93 vol 1
---
---
Tracklist:
Key Tronics Ensemble - Calypso Of House (Paradise mix) 
Night Communication - Nocturne Seduction
Aqua Re - Holy Dance (Large Sound mix) 
Don Pablo's Animals - Paranoia
Open Spaces - Sunrise Paradise Garage
Last Rhythm - Last Rhythm (ambient mix)
Back in... 
Young Marco mines deep into the 90s era Italian house underground and strikes absolute gold... Part 1 .

At the tail end of the 1980s, a new take on deep house began to emerge from Italian studios. 'Dream house' drew inspiration from key U.S deep house records of the period , the spacey melodiousness of Larry Heard's productions, and the rich jazziness of tracks originating in New Jersey in particular but sounded distinctly different. Its' 'head-in-the-clouds' feel all rich chords, tactile basslines, fluid piano lines and starry electronics  made 'dream house' a uniquely Italian proposition.

Welcome To Paradiso gathers together some of the finest examples of the style for the first time since the turn of the 90s. It includes a smattering of scene anthems  Key Tronics Ensemble's peerless "Calypso of House", Morenas's "Sonnambulism", the ambient mix of Last Rhythm's Italo-house classic "Last Rhythm"  alongside a swathe of hard-to-find, in-demand and forgotten gems.


There are cuts from key players in the movement the likes of Don Pablos Animals, Sasha (later to find fame with a strong of bouncy, piano-heavy Italo-house cuts), and Dreamatic plus a string of lesser-known names whose contribution to the evolution of the sound should not be overlooked. Young Marco has also found space for Leo Anibaldi's "Elements", a rare deep house outing from a producer who later helped define the sound of Roman techno.

---