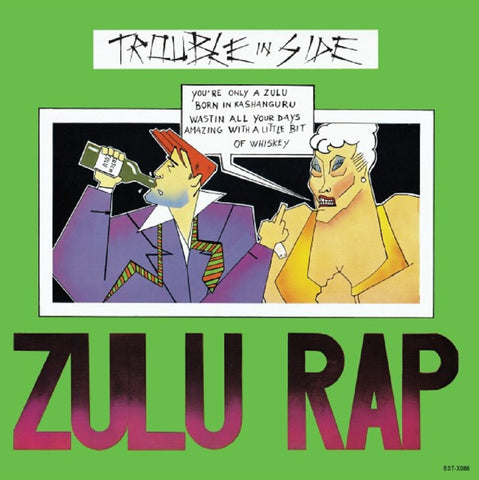 Trouble In Side
zulu rap
---
---
Tracklist:
Zulu Rap (vocal Alcoolist version)
1984 cool Obscure Naples / Italian 12"  reissued by Best.
"Worthy re-issue of obscure Trouble in Side, which is a one-off studio project entirely written, sung and arranged by Luigi Della Ragione. "Zulu Rap" represented a surprising alternative to the typical Italo-Disco sound perceived in Naples and around in the early 80s. This little-known production has some interesting arrangements, mostly in the short version, where the drum work out raised below, reminiscent of "Love Hangover" by Diana Ross. Actually at that time the Dance Music Report, in its 'Import' column wrote that the "intro" of the 'Alcoholic Version' was reminiscent of Madonna's "Holiday". while the 'Chinese Version' was inspired by a song from the Tears For Fears. Some of this news may pique the curiosity of DJs and collectors and provide enough motivation for the current reissue which faithfully reproduces the three 1984 versions as well as the original noteworthy cover artwork. If that wasn't enough: the B side of the original record had an extra track not listed, with the hand drums on a slower and unrelated "Zulu Rap" drum beat which is around 120 BPM, while the drums of the bonus track is about 113 BPM. A little more inside info... the beautiful Maria Chiara Perugini (aka Clio) is part of the choir vocals. She was part of the Airport label for the recording of her first solo song "Eyes". A historical re-release"
---