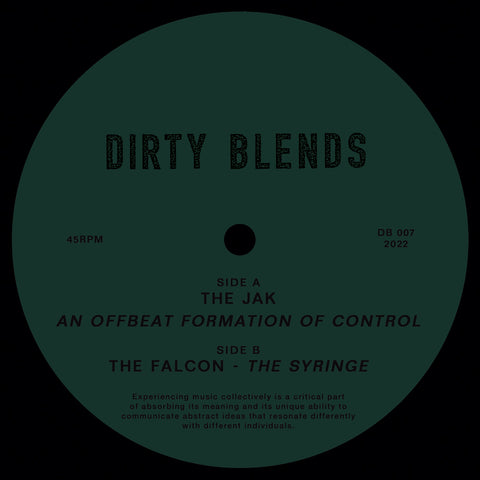 The Jak / The Falcon
an offbeat formation of control
---
---
Tracklist:
The Jak - An Offbeat Formation Of Control
The Jak has returned with 2 new Dirty bLends in extremely limited quantities.
Introducing nU cOhort to the label:
The Falcon(a silent assassin) this new artist alias to the label has contributed to the further effort of maintaining the sound from the early inception of chicago tracks like the days of old that still lives and breathes in us today that honors and treasures enriched essential dance music history.
The Jak kicks the A-Side into madness with a Jakbeat blueprint of energetic electronics and various bass lines on this obscure creation honoring Ron Hardy, Frankie Knuckles and Farley that resonates a confrontational question repeatedly saying "Who said i can't beat U for the title track 'An Offbeat Formation of Control' The Falcon Flys fiLthY iLL on the B-Side wit a whiPLash idea influenced from Chicago's south-side of rhythm styles Paul Johnson and Chip E!!! Made 2 Jak 4 Crazies that is truly Definitive Jakbeat.
---