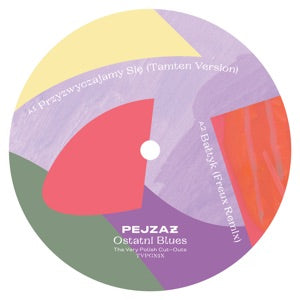 Pejzaz
ostatni blues
---
---
Tracklist:
Przyzwyczajamy Sie (Tamten rework)
Kiedy Jestes Blisko (Pejzaz remix)
Quality top nu-disco and house aesthetics....Selected remixes of tracks coming from the constantly rising artist who goes by the moniker Pejzaz. The A side features two previously digital only remixes of pieces taken from the 2018 release titled Ostatni Dzien Lata (The Last Day of Summer) The B side contains two new takes on tracks from the 2020 release Blues, as well as one never-before-released cut from a recording session from that time. Talented young Polish producers, Tamten and Freux and old stagers: DJ Kurkuma( Ptaki duo), and Pejzaz himself...
---