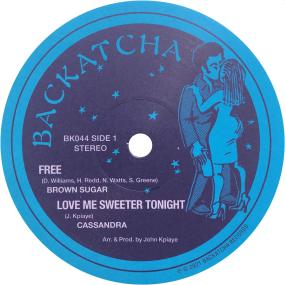 Brown Sugar / Cassandra / Jean Barrett
ep
---
---
Tracklist:
Cassandra - Love Me Sweeter Tonight (1982 version)
Jean Barrett - For The Love Of You (long version)
Reissued for the first time, three sought-after John Kpiaye Lovers Rock / dub productions recorded between 1978-1982; Brown Sugar's wonderful cover of Deniece Williams 'Free', Jean Barrett's cover of Isley Brothers 'For The Love Of You', and the 1982 remake version of 'Love Me Sweeter Tonight' by Cassandra.
"A lot of musicians that were coming over from Jamaica around the late 70s who'd be recording in England, they'd say 'give us that sound, that kind of lovers sound you got there'" (John Kpiaye)"
Alongside Dennis Bovell, Kpiaye was also the in-house musician at Dennis Harris's Eve Studio in Lewisham. A well-documented part of the lovers rock story, the 8-track studio was the engine room for Harris's various label ventures since the mid-70s, namely his newly formed Lovers Rock label in 1977. The same year, Kpiaye graced the company with multiple hits from local singing talent, Cassandra and Brown Sugar - with three of his original songs swiftly becoming anthems - 'I'm In Love With A Dreadlocks', 'Black Pride', 'I'll Never Let You Go Out Of My Life' - "People would go in the record shop and say 'is there anything new on the Lovers Rock label?' and the guy would say 'yes, and we also got a couple of other tunes in the lovers rock style' and from that people began to refer to all this kinda genre as lovers rock" (John Kpiaye).
Kpiaye's output for the label was always credited to his alias Brownie "T" - "That was because no one could spell my name correctly so we used that instead".
---